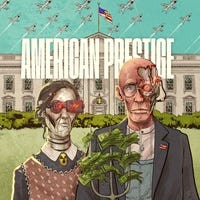 Oct 9, 2021
Bonus - The History of Vietnam, Ep. 2 w/ Sean Fear
A podcast from Daniel Bessner and Derek Davison that provides listeners with everything they need to know about what's going on in the world.
Danny and Derek welcome back Sean Fear, lecturer in international history at the University of Leeds, to continue their series on Vietnam. They discuss the history of South Vietnam, focusing in particular on the life and times of Ngô Đình Diệm, the first president of the Republic of Vietnam (South  Vietnam) and U.S. foreign policy in the 1950s and early…
Listen to this episode with a 7-day free trial
Subscribe to American Prestige to listen to this episode and get 7 days of free access to the full post archives.