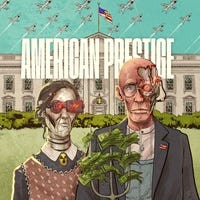 Mar 5
Bonus - A History of Modern Palestine, Ep. 3 w/ Rashid Khalidi
A podcast from Daniel Bessner and Derek Davison that provides listeners with everything they need to know about what's going on in the world.
Danny and Derek welcome back Rashid Khalidi, the Edward Said Professor of Modern Arab Studies at Columbia University, to discuss his book The Hundred Years' War on Palestine: A History of Settler Colonialism and Resistance, 1917-2017. In this third episode, they examine how the Zionist movement was affected by World War II; the postwar conflicts in the …
Listen to this episode with a 7-day free trial
Subscribe to American Prestige to listen to this episode and get 7 days of free access to the full post archives.